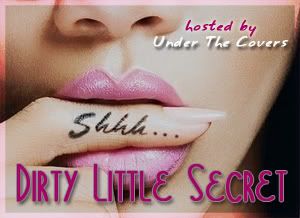 Dirty Little Secret
is a weekly meme hosted by the lovely ladies at
Under the Covers
. Every Thursday we get to know other bloggers and our readers more intimately by asking them a question hoping to reveal their dirty little secrets.
To participate in the meme all you need to do is:
1. Be a follower of
Under the Covers
.
2. Create a post in your blog taking the meme image and copy instructions.
3. Answer the question they propose! This can be done in any way you like, post a video, write a post etc.
4. Then add your link below.
Non-bloggers: We want to hear from you as well!!! Let us know your answer in the comments!
We hope you join us and let us know your
Dirty Little Secrets!
•
This weeks question
•
Complete the following sentences with fictional character names:

I would have a one night stand with...
I would marry....
I would like to be sandwiched between....
I would turn bi for...
•
My Answers
•
And there you have it! My first ever meme... I'm going to go celebrate with a glass of wine now.
♥